Muchal Age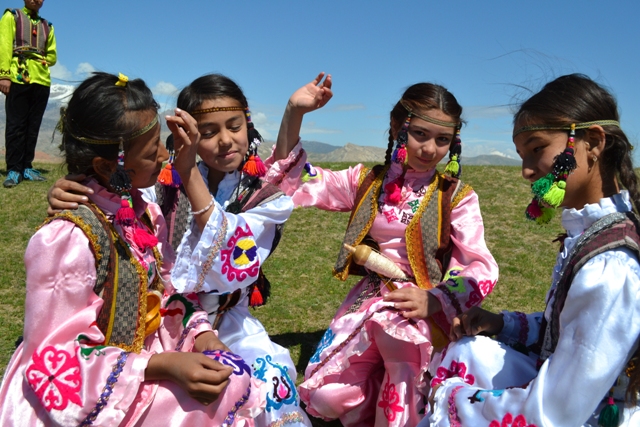 Domain: Social Practices, Rituals and Festive Events
Index Number: 03.01.03
Among Uzbeks there was a tradition to celebrate the transition of boys and girls from childhood to adolescence called "muchal age". Muchal age was celebrated solemnly and marked transition from one stage of life to another.
One of the calendars used by Uzbeks since ancient times was a 12-year calendar called "muchal", which usually began after vernal equinox. Each of 12 years of the calendar has its own name, associated with a particular animal: mouse, cow, tiger (leopard), rabbit, fish (crocodile), snake (dragon), horse, sheep, monkey, chicken, dog and boar.
It bears mentioning that muchal calendar, which is the product of philosophical views, astronomical observations, and calendar-related knowledge of the peoples of the ancient East, is still in use today. In particular it is still common among Uzbeks to count the age of a person based on muchal calendar. And those, who made it through muchal calendar cycle (i.e. 12-year cycle), usually celebrate "muchal toy" ("muchal festivity").
According to tradition, muchal age was celebrated during Navruz holiday, more specifically, after the end of twelve-year cycle (i.e. at the age of 12-13, 24-25, 36-37...). The end of the first muchal period, i.e. turning of 12 years old, was usually celebrated solemnly and with grandeur (in comparison to other muchal ages).
The ceremony dedicated to muchal age was carried out with participation of relatives and neighbors. The ceremony itself turned into a grandeur celebration, during which its participants were offered a special feast. Though, the feast was organized differently in various places. If in some areas of the country common table was laid, in other areas feast was offered in three stages: first it was offered to children, then adults and finally – to relatives. For example, in Namangan region parents of children, who turned 12 years old, gather together and solemnly celebrate this occasion at school. In Bostonbuva village of Ferghana region, those who were born in the same muchal year, participate in "muchal toy" ("muchal festivity") on the same day and in the same venue.
As a rule, a child, who reached muchal age, wore the dress of white color. In addition, white-colored fabric was thrown over his shoulder, which, in terms of length, was equal to his height. On the day of "muchal toy" various presents were given, rituals were carried out (including burning of peganum (isiriq)), and prayers (duo) were said.
This festive day was celebrated differently in various places of Uzbekistan. In Bukhara, for example, at the center of a house, where festive table was laid, scales with zaghoma (wooden box with leather bottom, which was to serve as a scale pan) were hung. A child, celebrating muchal age, was put to one of zaghomas, while sweets were put to the second one until they overweighed him. After that he was seated to the honorable place, and sweets were equally divided among the people, sitting around the table (and were put on flat breads). The gathered then celebrated the occasion. In such a way festive ritual came to an end.
As a rule, all children, who turned 12 years old, wore white dresses, gathered in one place and congratulated each other. After that they promenaded in the streets. Notably, in former times promenades on the occasion of muchal age were celebrated together with Navruz holiday. As such, young people, who dressed up in white color and arrived to the place of celebration of Navruz, were usually congratulated: little children gave them spring flowers, while the elderly prayed for them. In such a way, those who reached muchal age turned into symbolic "heroes" of spring holiday (Navruz).
At the end of muchal festivity, one of the elderly, who lived already his 6-7 muchal ages (approximately, 70 years old), prayed for the honorees.
After gaining Independence, muchal age began to be celebrated not only in family circle, but also at schools. And over the last few years muchal age has been solemnly celebrated with participation of parents at majority schools of Uzbekistan on the eve of Navruz holiday.