DANCING ART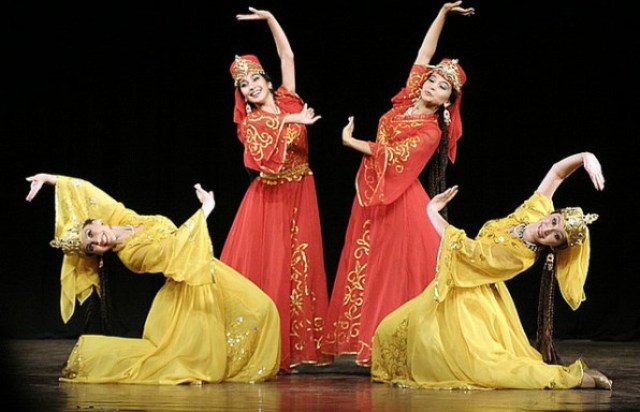 Domain: Performing Arts
Index Number: 02.05
Dancing art of Uzbekistan, which unites the traditions of oral folk creativity, songs and dances, has a rich history. This is testified by numerous archaeological findings, artifacts, wall paintings (in the palaces), ossuaries and works of miniature art of the Middle Ages which came down to us from the ancient past (for instance, images of dancing women and men on wall paintings of Tuproq Qala (Karakalpakstan) related to the II –VI centuries; rock painting called "Dancing woman", which were found in Chelak village near Samarkand and which date back to the V century; the dance of religious nature engraved on the stones of Yakkabogh (Kashkadarya region) related to the VII century; miniature of Mahmud Muzahhib called "Dancing women" and several other miniatures created by Kamoliddin Bekhzod, the brightest painter of Bukhara school of the ХV-ХVI centuries; names of the dancers in the works of Alisher Navoi from the ХV century, etc.).
Throughout history various dance styles emerged. From among them it is possible to mention "Katta oyin" (Big dance), which is a multi-part suite that includes the cycle of rhythmical usuls as well as complexes of certain dance movements associated with them, "khona bazm oyin" (indoor dances), "duchava" (dance with two sticks), "dance with teabowls" (dance with a bowl for drinking tea) , "dance with spoons", "dance with daggers", "dance on chest", "teapot dance", "kema oyin" (dance on a boat), "zangbozi", "naghora oyin", "shodi", "zamin bozi", "larzon", "lazgi", "bukhorcha", "tanovar", "Farghona ruboyisi", "Andijon polkasi", etc.
In the past dances were divided into those performed by men and women. In Khoresm such dances were widespread, in which performer juggled with burning torches, i.e. "Otash oyin" (literally - fire-like dance). There were also original dances in Khiva, which were performed by men only, who accompanied themselves by holding in their hands polished stones called "kayrak". In Bukhara women's dances prevailed, in which performers dance by sitting on their knees. In mountainous regions of Samarkand popular are the dances called "Beshqarsak" (five handclaps), which are performed under accompaniment of doira (percussion instrument) and handclaps. In mountainous regions of Surkhandarya young men dance by closing their eyelids and putting out their forefingers, and women dance by beating out rhythms using colored wooden spoons. Solo women's dances of the Ferghana Valley emphasize lyrical aspects; and their characteristic features are smooth and graceful movements with hands and legs. "Andijan polka", which is danced under the music of famous composer Orif Toshmatov (Orif accordion), can be distinguished by temperament, virtuosity and passion.
Karakalpaks live in the Republic of Karakalpakstan, which is part of Uzbekistan. They settled there earlier than other ethnic groups. And Karakalpak dancing school significantly differs from the others, especially when it comes to collective dances. In such dances (specifically in men's movements) it is possible to observe existence of movements, which remind those used in the Caucasian and Romanian dances (and as such, are not to be found in other dancing schools).
Even though there are different styles and genres, various performance manners, it is still possible to see some common features, which make up Uzbek dance. For instance, there is a precise rhythm, a clear pace and expressiveness of movements of hands. All these make Uzbek dance look very impressive.
Yusuf qiziq Shakarjonov (1869-1959), Usta Olim Komilov (1875-1953), Tamara Khanum, Mukarram Turghunboeva, Isakhar Oqilov, Galiya Izmaylova, Yelizavetta Petrosova, Kugduz Mirkarimova, Roziya Karimova and others made their invaluable contribution to the revival and development of traditional dancing art.
The first ever women's ensemble of folk dance, "Bakhor" ensemble (established in 1957 and led by Mukarram Turghunboeva), revived peculiar features of folk dance onstage, while demonstrating originality of each region in dance.
At present there are five local dancing schools with their peculiar traditions in Uzbekistan. These are:
• Ferghana-Tashkent dancing school;
• Bukhara dancing school;
• Khoresm dancing school;
• Surkhan dancing school;
• Karakalpak dancing school.
Each of these has its peculiarities in movements made, dresses and accessories used, rhythms and music applied. With the aim of promoting dancing art by the Decree of the President of the Republic of Uzbekistan "Ozbekraqs" National Dance Association was created in 1997, which has departments in all regions of the country. Also, by the same Decree Higher School of National Dance and Choreography was created, which trains leaders of professional and amateur collectives.
Nowadays in the territory of Uzbekistan there are dozens of professional and amateur dance collectives. The best from among them were given honorable titles of "People's Dance Collective" (or those, which deal with children's dances - "Exemplary Children's Dance Collective"). This honorable title entitles receiving money from the state budget to be used in supporting two leaders of the collective.