Khalfachilik (Khalfa Art)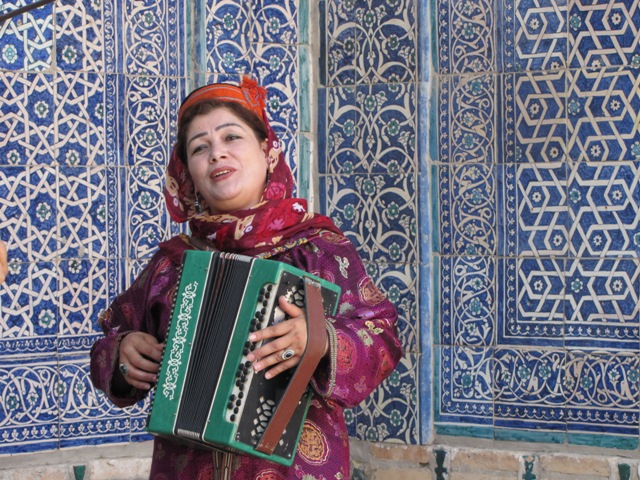 Domain: Performing Arts
Index Number: 02.04.04
In Khoresm region of Uzbekistan, a woman-performer of folk songs, folk-epic stories as well as fragments of dostons and their songs is called "khalfa". Khalfachilik, i.e. khalfa art emerged and evolved in Khoresm in the Middle Ages. In the ХIХ-ХХ centuries this art began to show up as a distinct type of women's performance, which was organized in the premises of a house designed for women ("ichkari"). Later on, women-khalfas began to stage their performnces during weddings and folk festivities.
Khalfa is a woman-performer of folk songs and instrumental music, a poetess in Khoresm Oasis, who embodies traditions of oral folk art. In terms of activity, there are the following types of khalfas: khalfa sozi (khalfa-musician), who performs folk instrumental melodies; khalfa yodoghiy (khalfa-singer and khalfa-poetess), who performs folk songs at wedding ceremonies and festivities, while accompanying her singing by playing on a musical instrument; khalfa kitobiy (khalfa-book lover), who reads old books of religious themes during commemoration and rituals events ("mushkulkushod" – literally "relief"); khalfa dostonchi (khalfa-narrator); khalfa raqqosa or khalfa oyinchi (khalfa-dancer).
In Khoresm two directions of khalfa performance became widespread, i.e. ensemble performance and solo performance. In ensemble performance it is possible to see a leading woman-performer, who sings songs under accompaniment of accordion (i.e. Russian diatonic accordion, which has been existence in Khoresm since XIX centure and which is called "qol soz"), doira player (who accompanies singing by playing on doira; sometimes she can act as a dancer as well) and dancers (who accompany singing with their dances; they usually dance with kajraks (castanets), or sometimes, sing along and play on doira). This kind of khalfa performance (i.e. ensemble perofrmance) is more spread in Khoresm.
Khalfas are welcome participants of family festivities (i.e. weddings, folk festivals, women's get-togethers, etc.). Khalfa yodoghi opens a wedding feast, i.e. Nikoh toy (wedding ceremony) by performing wedding-related ritual songs (such as Toy muborak, Toy boshlovi, Yor-yor, Kelin va Kuyov qutlovi) and conclude by singing a song called "Toy javobi".
The repertoire of khalfa is vast and diverse. It includes: wedding-related ritual songs as well as other types of ritual songs; lyrical songs; lapar and yalla songs; romantic and didactic songs, which are based on the poems of Makhtumquli, Munis, Ojiza khalfa; own songs as well as those relating to other khalfas; fragments and songs taken from epic stories; romantic dostons (such as "Tohir va Zukhra", "Oshiq Gharib va Shokhsanam", "Oshiq Oydin", "Asilkhon", "Khuliqo va Khamro", "Qumri", "Tulumbiy", "Qissai Zebo", "Zavriyo", "Durashsho", "Bozirgon", "Khirmon dali", etc.).
For khalfas, who perform solo, typical is small declamation-like recitation of dostons and old religious books during organization of religious rituals in womanly circles (such as "Ulli pir", "Mushkulkushod", "Ghavsuli Azam", "Payghambar hikoyati", "Bobo Ravshan", "Bibi seshanba", etc.).
Khalfa is a woman-performer of folk songs, dostons and instrumental music. She is also a poetess and author of her own songs. Typical for her are: expressive singing; skillful use of the musical instrument ("qol soz"); skillful performance of dostons; ability to improvise (i.e. ability to create and indite new things during performance); emotionality while reciting poems (in combination with a songful melody).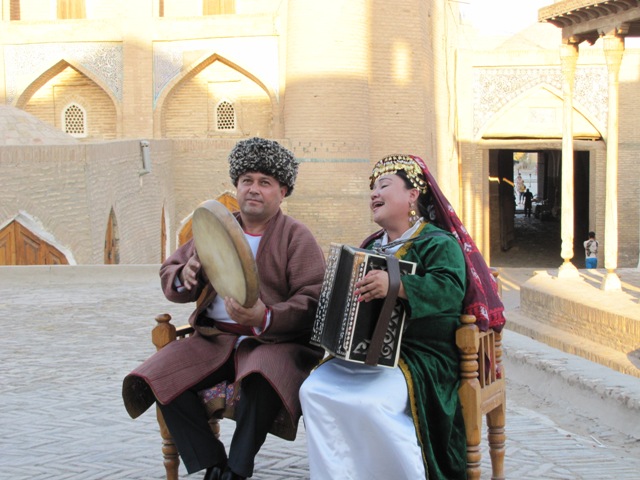 Khalfas themselves were the authors of poems of diverse topics (in particular dedicated to important events of the times) and created songs and instrumental melodies for them. From among such works it is possible to mention "Bevafo zolim" ("Unfaithful oppressor") by Khonim Suvchi Saidakhmad qizi (1858-1926), "Ayrildim" ("I separated") by Bibijon (Bibi shoir) Qosim Devon qizi. Till nowadays the songs and poems of Ojiza khalfa (literally, "Blind khalfa"; in reality her real is Anabibi Otajonova (1889-1961)), who was the author of more than 30 songs, enjoy popularity among khalfas. She herself trained a number of talented khalfas, among whom it is possible to mention Nazira Sobirova, Raziya Matniyoz qizi, Saodat Khudoyberganova and others.
Khalfa art is still popular among the population of Khoresm region and Ellikqala region of the Republic of Karakalpakstan. The bearers of khalfa traditions are Bibi shoira, Ojiza khalfa, Khonimjon khalfa, Onajon Safarova, Nazira Sobirova, Raziya Matniyoz qizi, Saodat Khudoyberganova, Poshsho Saidmamat qizi, Ambarjon Rozimetova, Anorjon Razzoqova.
For the purposes of preservation and popularization of khalfa art under Music School of Khiva Children's Khalfa School was established. Currently, the traditions associated with this genre are mastered not only through "ustoz-shogird" ("master-apprentice") traditional method of learning, but also through studying at music schools of Khiva, colleges of art of Urgench and Ellikqala. Moreover, khalfas regularly participate in review competition of bakhshi-shoirs (since 1999). In Khoresm and Republic of Karakalpakstan various competitions of khalfa performers are organized (in particular, there is a competition of khalfa performers, which has been organized since 2013 within the framework of the festival "Nafosat bostonim manim" in Ellikqala region of Karakalpakstan). Khalfas also demonstrated their art and skill at "Boysun Bahori" Open Folklore Festival, "Asrlar sadosi" Festival of Traditional Culture and "Sharq taronalari" International Music Festival (in Samarkand). In addition, festival of khalfa art is organized Khiva (Khoresm region, 2016).