Ritual Songs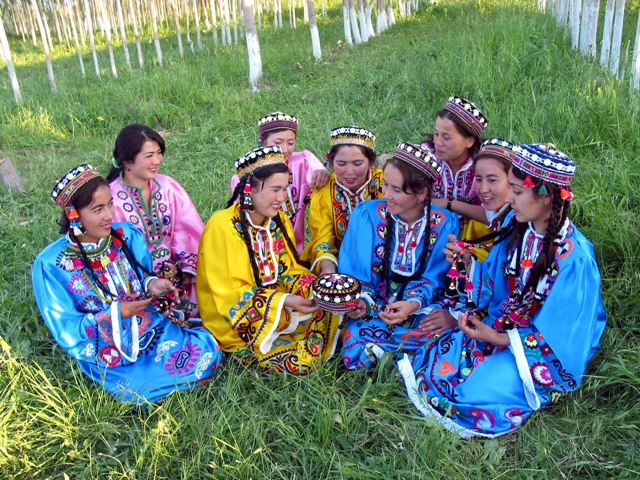 Domain: Performing Arts
Index Number: 02.04.03
Rituals and festivities with their diverse customs and traditions occupy an important place in the traditional culture of Uzbekistan. Rituals, much like festivities, incorporate everything which was accumulated in nation's culture throughout centuries, reflect historical life of a certain social and economic formation, and to some extent, shape spiritual world of the people.
Ritual represents one of the most important aspects of traditional and spiritual culture of the nation, acts as an essential ethnographic factor, which, to a certain degree, makes each nation distinguishable. As such, it could be perceived as "a face" of the nation and represents one of its ethnic symbols. Music and singing, along with other attributes, represent valuable areas of spiritual experience, and are distinguished by existence of diverse styles, manners of performance, different subject matters and contents.
Ritual music represents the most ancient layer of traditional culture. It is thanks to rituals that humans became familiar with folk art, i.e. with songs, dances, folk games, spectacular performances, etc. At the same time, music and singing became major attributes of any ritual.
Ritual-related singing practice is represented by both music and singing, which are observed in a ritual and which are present during ritual-related actions. Ritual songs include: calendar-related ritual songs, wedding-related ritual songs, funeral-commemorative and cult-ritual songs. Each of these has its distinguishing features and content, musical and poetic laws, performance manners.
Calendar-related ritual songs are the ones, which are associated with seasons, natural phenomena and labor processes. Among them it is possible to mention the following: ritual songs of "rain-, wind- and snow-making" (Sust khotin, Shamol chaqirish, Choy momo, Qor keldi); ritual songs associated with first flower (Boychechak, Binafsha); ritual songs of first furrow (ritual songs of Qosh haydash and Shokhmoylar, which are performed solo with a high-pitched and open voice by men without musical accompaniment); ritual songs of first harvest (such as Mayda, Oblo baraka); songs associated with festivities and holidays, which are performed either solo or in a group (Salom Navruz, Muborakbod, Yil boshi, Sumalak); songs-carols, associated with Oriental calendar (i.e. peculiar songs, such as Ramazon and Yo rabbim, which were performed by adults in the past and later on – by children).
The most widespread and diverse layer of ritual songs is represented by family-related and daily life songs, which are associated with a lifecycle of an individual (i.e. from his date of birth, through adulthood and creation of a family, to his death). These include wedding-related ritual songs, in which diversity in means of expression and performance can be observed, and which fulfill various functions (such as congratulation, procession, glorification, edification, welcoming, etc.). Among wedding-related ritual songs it is possible to mention the following: "muborakbod" songs (i.e. congratulatory songs, such as Toy muborak, Toy boshlovi, Al muborak), "qutlov" songs (i.e. welcoming songs, such as Khush keldingiz, Kelin va kuyov qutlovi), "yor-yor" and "olan" songs (i.e. procession and glorification songs, such as Yor-yor, Olan), "kelin salom" songs (i.e. welcoming and edification songs, such as Kelin salom, Chor salom, Khazor ali), "aytishuv" songs (i.e. songs performed in the form of verbal competitions, such as Muborakbod, Baytkhonlik, Lapar), "khayrlashuv" songs (i.e. farewell songs, such as Toy javobi, which are widely spread in Khoresm, and which notify about completion of the feast part of the wedding ceremony). In addition to the aforementioned, there were lullaby songs, which were performed on the occasion of baby's birth and celebration of "Beshik toy" (such as Alla and Ona allasi; in these songs improvisation represents an essential feature).
It is important to mention, that wedding-related songs have always been sung under instrumental accompaniment. Their melodies were recitative-songful, the manner of singing - rich and diverse. In addition, in several regions of Uzbekistan it is typical to observe the existence of original wedding-related songs, or even, the whole cycles (for example in Bukhara it is Mavrigi, in Samarkand – Qarsak, in Ferghana Valley – Naqsh, Shomuborak, Ustozi sartarosh, etc.).
Weep-lamentation (Yighi or Yoqlov) represents the main one in the rituals related to funeral and commemoration. It is often performed by women in a lyrical-dramatic and emotional manner either solo or in group without instrumental accompaniment. Funeral-related songs also include Marsiya (dedication) and Sadr. A ritual song performed in treatment of sick children is represented by Badiq, a song-recitation performed solo by women.
The history testifies that rituals, while representing figurative-symbolic, artistic-verbal or music-poetical embellishments of the most important events in the life of society in general and individual in particular, are of invaluable importance. At the same time, religious beliefs have never been at the core of folk art. Nevertheless, it is thanks to them, that it is possible to trace the ideas about ancient mythological characters, postulates (principles) of Islam. And religious ritual includes cult-ritual-related music, which is associated with the most ancient cults, such as shamanism (a ritual of healing accompanied by singing songs, such as "Kuch" or "Qaytarma" (literally – "expulsion")), with Muslim worship (Azon, singing ayats of Koran, Zikr, Mavlud), with vocal pieces of religious content (such as Munojot, Nat, Qalandar, Khonaqoi, etc.). And all these (starting from melodeclamation of Azon and ending with Tajvid) represent the result of oral-professional creativity; and are predominantly vocal and performed without instrumental accompaniment.
Notably, ritual songs accompany human from his birth (lullaby songs, such as "alla", daily life related songs, such as "Azon", etc.) to his death (funeral songs, such as "Yighi"). Even memories of him are preserved for a long time in songs (such as "Marsiya", "Nat").
Uzbek ritual music was designed for a certain ritual and was performed on exact day of a year on a particular occasion. It could be a certain calendar date, daily life-related and family-related occasion (i.e. birth, wedding, death). It could also be performed on the occasion of illness, natural disaster, religious action, etc.
Notably, strong fusion of music, words and actions, to be found in ritual, determined not only the content of its certain stage, but also its structure, musical and poetical laws, styles of performance.
Speaking about ritual songs at present one could observe not only their protection, preservation and development, but also their continuity (succession) and creative manifestation. And this occurs thanks to the following measures: organization of expeditions with the aim of audio-visual and textual recording; promotion through radio and TV programmes, films; organization of competitions, festivals (among folklore ensembles; among alla and wedding song performers) and conferences; publication of books, collections of books and disks; undertaking scientific studies, etc. Notably, nowadays ritual songs represent sources of inspiration for bastakors and composers of Uzbekistan, when it comes to creation of new music pieces.