Tanovar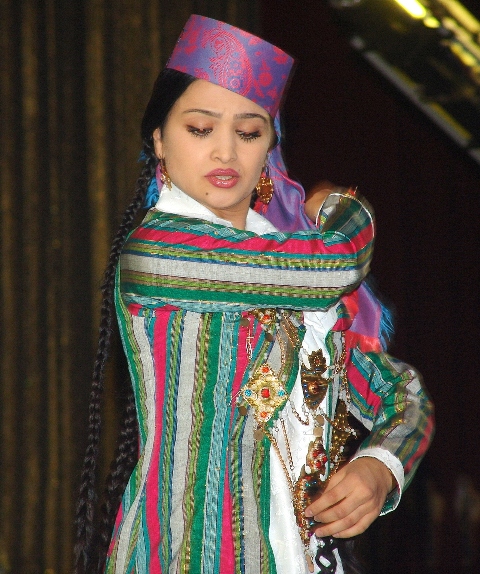 Domain: Performing Arts
Index Number: 02.03.05
"Tanovar" (in Persian language – "brave", "strong") is a vocal and instrumental piece, which is widespread in Uzbekistan, in particular in the Ferghana Valley. The word "tanovar" itself is made up of two words, i.e. "tan" – "body", or "soul" and "ovar" – "delight". In other words it can be read as "a delight of soul".
The word was initially used in folk trade and was associated with tanning, which was part of the process of production of traditional footwear called "makhsi" ("ichigi"). The most difficult part of the work and typical sounds of "ghich-ghich", which emerge during walking, were named as "tanovar". Also creation of song (about irreplaceable love and affection) is associated with a craftsman, for whom it was a kind of love message to his beloved one.
"Tanovar" is a folk song (it uses folk poetry), which tells about love and difficult-to-achieve encounter of a girl with her beloved one. In folk music creativity different versions of "Tanovar" emerged. These are the songs performed under accompaniment of dutar ("Qora soch", "Sumbulla" (folk texts), "Endi sendek" (poems of Muqimi); songs of lyrical nature with very expressive melody, which became the basis for creation of more elaborate vocal and instrumental pieces of similar name but with local features ("Tanovar", "Adolat tanovari", "Yovvoyi" or "Dadi Tanovar", "Farghonacha shakhnoz" or "Farghonacha Tanovar", "Qoqoncha Tanovar", "Marghilon tanovari", "Namangan tanovari", "Yangi tanovar", etc.). In the XX century more than 20 versions of "Tanovar" emerged and became widespread. And "Tanovar" does not represent a piece of music art only. It is also used in creation of poems in Uzbek poetry, in dance, theatre and fine arts.
Many singers and bastakors (composers), based on initial tune, created original variations of "Tanovar", which differ in terms of content, form, rhythm of melody, and manner of singing. The tune got enriched profoundly at the expense of development of melos with use of vocal ornamentation and chants, while its bright and expressive melody brings emotional delight to the listener in the process of listening. A spiritual beauty of Uzbek woman found its reflection in developed song forms of "Tanovar". Melodies of these songs proceed gradually from middle register (the range of melos expands in terms of intonation and melody) to an expressive and emotional culmination (audj). Speaking in general, in each character, which is sung in the song, the full breath of spiritual world of a human is embodied.
In the process of evolvement "Tanovar" got enriched significantly in terms of genre composition. For instance it is possible to find it in the form of a folk song ("Qora soch"); in the form of a vocal piece in ashula genre ("Endi sendek", "Adolcha"); in the form of katta ashula ("Yovvoyi Tanovar"); in the form of a variety song ("Tanovar"); in the form of a cycle of songs (Tanovar I-V); in the form of a vocal piece of ashula genre in the creative activity of bastakors ("Ulkun jonon" by B. Mirzaev, "Yovvoyi tanovar" by J. Sultanov, "Tanovarni tinglab" by A. Ismailov, etc.).
"Tanovar" also represents a popular and widespread instrumental piece for dutar, tanbur, ghidjak, chang and other musical instruments. For instance, "Qoqon tanovari" is suitable for playing on dutar, "Turgun tanovari" – for dutar, tanbur and sato, "Gulbahor va tanovar" (music piece as interpreted by famous musician Turgun Alimatov; at its core is a tune from maqom called "Dugoh-Khusayni IV") for chang. Apart from the above-mentioned, "Tanovar" represents the name of a music form and usul (rhythm formula, which is used in a number of music pieces, for instance, in "Qalandar I" or "Soyai") as well as the name of dutar tuning ("Tanovar sozi").
"Tanovar" is also a well-known Uzbek dance, which was performed onstage for the first time by Mukarram Turghunboeva in the 40s of the XX century and which became a symbol of woman's dance in the dancing art of Uzbekistan. The melody in "Tanovar" piece begins from high register and goes to "Tanovar" tune, which develops in combination with music and dancing movements. The melody is accompanied by an instrumental ensemble. Each movement in this dance is an expression of women's soul and informs about her love. It bears mentioning that B. Jalolov, a painter and sculptor of monuments, created a work called "Tanovar" (in the concert hall of "Bahor").
In the ХХ century "Tanovar" was recorded by N. Mironov, V. Uspenskiy, E. Romanovskaya, Y. Rajabiy and others. In 1936, composer A. Kozlovsky recorded "Tanovar" in performance of Khalima Nosirova, a famous singer of Uzbekistan, who combined in her creative activity both traditional singing and opera art. Having processed the recording, he created an original vocal piece of "Tanovar" for a singer and symphony orchestra (it was performed by Kh. Nosirova together with a symphony orchestra; it was directed by А. Kozlovsky). Later the composer created a symphonic poem of "Tanovar" (1940) and ballet of "Tanovar" (1971), which were based on traditional tunes. Also, vocal pieces of T. Sodiqov for a singer and orchestra were created under the same name based on "Tanovar". M. Burkhanov, based on the song "Endi sendek" created an original adaptation for four-voice chorus (capella). "Tanovar" is also actively used in opera "Boron" ("Snowstorm") of M. Ashrafi and S. Vasilenko. Furthermore, A. Nabiev created an original work of "Tanovar" for piano.
At present, "Tanovar" enjoys popularity among people and became widespread. It is included in the repertoires of many singers and musicians and occupies significant place in the creative activity of Uzbek bastakors (composers).