Khoresm Maqoms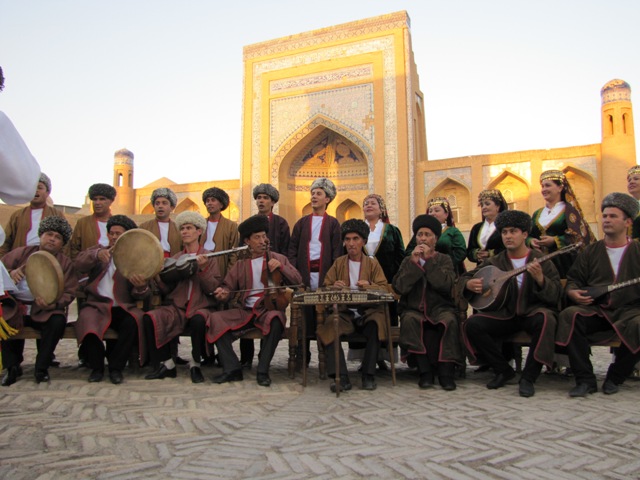 Domain: Performing Arts
Index Number: 02.01.02
Khoresm maqoms are one of the local types of maqom, spread in Uzbekistan. The cycle of "Khoresm maqoms" emerged on the basis of Shashmaqom and music traditions of Khoresm at the turn of the ХVIII – ХIХ centuries and comprises of such maqoms as Rost, Buzruk, Navo, Dugoh, Segoh, Iroq and Pandjgoh (in practice they are called "Six and a half maqoms" or "Khoresm Shashmaqom").
Each maqom in its turn is divided into two parts, i.e. instrumental part called "Chertim yoli" (Mansur) and vocal part called "Aytim yoli" (Manzum). Instrumental part unites a cycle of instrumental compositions as "Tanimaqom", "Tarje", "Gardun", "Peshrav", "Muhammas", "Saqil" and "Ufar", which are performed either solo or by instrumental ensemble. Main musical instrument was tanbur, the tuning of which defined the tonality of each maqom. Vocal part comprises of vocal and instrumental compositions as "Tanimaqom", "Talqin", "Nasr" and "Ufar" ("Tarona" was performed only after "Tanimaqom") as well as typical for Khoresm compositions as "Naqsh", "Suvora", "Faryod" and "Muqaddima", performed solo under accompaniment of instrumental ensemble. The texts were mainly taken from the poems of classics of oriental poetry, i.e. Hofiz, Jomiy, Navoiy, Fuzuliy, Munis, Ogahiy, Feruz, Komil Khorazmiy, Avaz Otar, Atoiy and others and were dedicated to love-related, lyrical, philosophical, didactic, religious themes. Typical for Khoresm instrumental and vocal compositions as well as additional compositions of Shashmaqom are part of Khoresm cycle of maqoms. Although there are some common features between Shashmaqom and Khoresm maqoms, there are also some differences as represented by melodic structure and development, usul system and style of performance. The cycle includes more than 200 compositions performed by popular musicians and singers of Khoresm with application of own local traditions and musical dialects.
Maqoms were leading genres in royal court music. Khoresm maqoms reached their peak in development under the rule of Muhammad Rahimkhon Soniy (1864-1910), who was known as a poet and musician under the pseudonym of "Feruz". His poetic and music compositions became part of the cycle of Khoresm maqoms as well as vocal compositions as Suvora, Naqsh, Muhammas and Musaddas. He is also considered the author of five-part cycle "Feruz", well-known in Uzbekistan. The bearers of maqom traditions in Khoresm were Niyozjon Khoja, Khudoybergan Muhrkan, Matyoqub Kharrat, Madrahim Sheroziy, Matpano ota Khudoyberganov, Matyusuf Kharratov, Khodjikhon Boltaev, Komiljon Otaniyozov, Rozimat Jumaniyozov and others.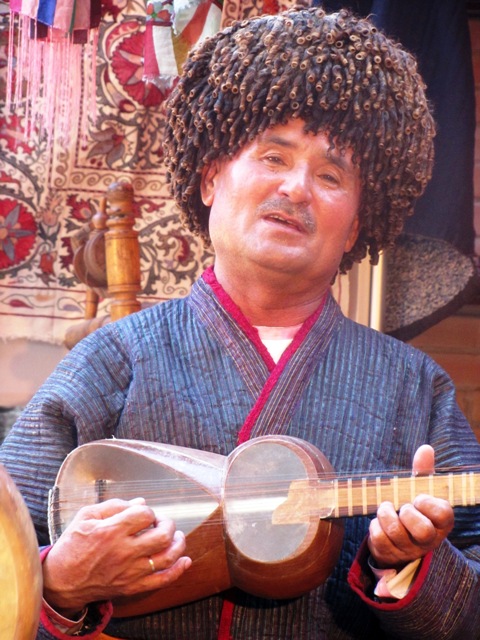 Khoresm maqoms were written down for the first time with a special musical notation called "Tanbur notation" ("Tanbur chizighi"), created at the end of the ХIХ century by famous poet, musician and public figure Komil Niyozboshi Khorazmiy and his son Muhammad Rasul Mirza, with active participation of popular poet Muhammad Yusuf Bayoniy on the initiative of the ruler of Khiva - Muhammad Rakhimkhon Soniy. This particular notation system was used in music education and teaching maqoms based on "Ustoz-shogird" ("Master-apprentice") method up until 40s of the XX century. With a help of "Khoresm tanbur notation" the cycle of Khoresm maqoms (played on tanbur) and instrumental as well as vocal cycles of maqom (played on dutar) were written down. In the second half of the XX century with deciphering of "Tanbur musical notation" dealt V. Belayev, I. Akbarov, O. Bobojonov, whereas in the XXI century it is dealt by teachers and professors of Urgench University, i.e. R. Boltaev, B. Rahimov, S. Khudoyberganov under leadership of musicologist Otanazar Matyoqubov (on the initiative of UNESCO it was published under the title of "Uzbek Music Notation", Tashkent, 2007). For the first time musical notation of instrumental parts of Khoresm maqoms was prepared by E. Romanovskaya ("Khoresm Classical Music", Tashkent, 1939), of instrumental and vocal parts – by composer M. Yusupov ("Khoresm Maqoms", Tashkent, 1958; as a separate, three-volume edition and in the form of five books – "Khoresm maqoms" in 1978-1991). The first maqom ensemble was established in 1920 in Khiva and in 1964 – under the leadership of Kh. Boltaev. The first ever professional maqom ensemble began its work under regional television in 1984 under the leadership of R. Jumaniyozov. At present Khoresm maqoms are promoted and popularized by professional and folk maqom ensembles of Urgench, Khiva and Khanqa. The traditions of maqom art are mastered by musicians and singers, among whom it is possible to mention O. Khudoyshukurov, I. Ibragimov, R. Qurbonov, F. Davletov, S. Khudoyberganov, M. Matyoqubov, R. Boltaev and others. Notably, Khoresm maqoms are mastered by students of HEIs and schools. Information and relevant materials were incorporated into educational process of Urgench University, college of Art and Culture and various music schools of Khoresm. It became a good tradition to organize constantly the competitions of traditional performance, which are named after Kh. Boltaev, К. Otaniyozov (Khoresm), O. Khudoyshukurov (Republic of Karakalpakstan), and which demonstrate traditions of Khoresm maqoms.