Sumalak Sayli (Sumalak festival)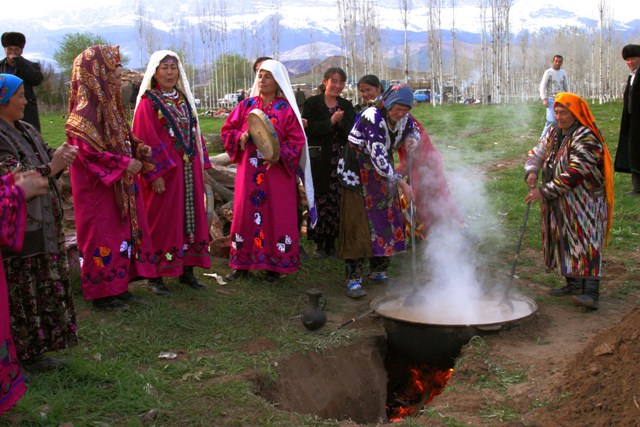 Domain: Social Practices, Rituals and Festive Events
Index Number: 03.02.02
Sumalak sayli is an essential part of Navruz festivity. It is an event, which embodies national as well as universal human values, a bright example of intangible cultural heritage. Sumalak, being the main food that is offered during Navruz festivity, is considered to be delicious and tasty.
According to some sources, sumalak, which has always been prepared in spring (i.e. at the beginning of Navruz festivity), has more than 3000 years of history. Notably, in historical and literary sources of Amir Temur's epoch, it was mentioned that the traditions associated with sumalak festival represented an integral part of Navruz.
Sumalak festivals were organized in steppes, gardens, small town squares, registans, markets, holy sites and mahallas, and lasted from one week to one month. And sumalak which was prepared with participation of the entire mahalla, was distributed among peoples. Before trying it, peoples, thankful of the fact that they survived into spring, prayed and asked for the good, successful and abundant year. As a rule, sumalak festival was accompanied by various performances, feasts and songs.
Although there are some similarities observed in celebrating sumalak festival across different regions of Uzbekistan, there are some differences as well. For example, in the antiquity, in the southern regions of Uzbekistan, sumalak festival was organized on foothills and steppes. But if it were large cities, then it was organized on big squares, where people usually gathered. Because of sumalak festival, in the places where folk promenades took place, dining halls, chaikhanas and bakeries were built, shops with fruits, perfumery and grocery products began to operate. Usually during sumalak festival competitions of kopkari-uloq and kurash were organized, camel, ram and cock fights were arranged, bakhshis performed their terma and dostons, ropewalkers demonstrated their skills.
Thinking of the mankind has its own history. And the process of evolution of the consciousness, which has taken place to present day, can be observed in its layers. In this regard, in rituals, customs and promenades, which are typical for Navruz, we can see that this process acquired an artistic form. As in the case of other rituals, there is own typical food that is associated with Navruz. And that is sumalak, which is considered exactly that type of ritual food.
Notably, sumalak is prepared based on steady traditions, by following certain rules and procedures. It is honored and regarded by peoples as the holy food. And this kind of attitude towards sumalak made possible emergence of songs about it.
Bahorning sen elchisi,
Yakhshilikning belgisi,
Navrozning sen singlisi.
Sumalakjon, sumalak.
You are the messenger of Spring,
The sing of goodness,
You are the young sister of Navruz,
My dear sumalakjon, sumalak.
In the above-mentioned song, an elevated mood, which reigns during sumalak preparation, is described.
According to the beliefs, each person with a good intention had to stir sumalak which was boiled in the pot. Those, who were not lucky to do so, felt a bit upset. At the same time on the eve of Navruz, during preparation of sumalak, grievances were forgotten, quarrels were ended. And it was considered, that all these were the merits of the beginning of the year, i.e. Navruz, and of its main food - sumalak.
Sumalak was not only about its preparation. It also meant that everyone gathers (i.e. from the young to the old), makes fire, and for the whole day has fun, sings songs, plays folk games.
During Navruz, along with sumalak other delicious foods were prepared, including halim and goja.
National values and traditions as embodied in sumalak festival are closely linked with ancient history and spirituality of our people. And we can see that in this festival found its reflection our ancestors' artistic expressions about nature and religious beliefs.
It bears mentioning that the traditions, customs and rituals associated with sumalak festival continue to be observed among the peoples at present.