Qoghirchoqbozlik (Puppetry)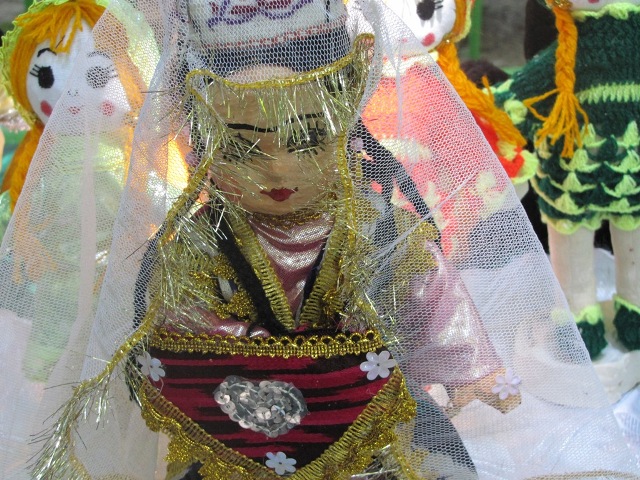 Domain: Performing Arts
Index Number: 02.06.04
Uzbek puppetry is considered to be a traditional art genre, which evolved in the form of an ancient traditional theatre of people. Notably, puppetry in Surkhandarya was called as "Suvkhotun", in Khoresm – "Ashshadaroz", "Maskharaboz" or "Polvon".
At dawn of the previous century different genres of puppetry emerged, such as "Chodir jamol" ("The tent of beauty"), "Chodir hayol" ("The tent of imagination"), "Fonus hayol" ("The lantern of imagination"), etc. "Chodir" (a tent or screen) is the stage, the theatre, whereas "jamol" – beauty, charm, goodliness (i.e. something beautiful, bright, for instance, beautiful face). Folk puppeteers used "qol qoghirchoq" (puppet played with hands or gloves), "ip qoghirchoq" (puppet-marionette), "mayda qoghirchoq" (small puppet) or "kata qoghirchoq" (big puppet).
Main feature of the puppetry is that main heroes are puppets and an actor, who manipulates them, hides behind the scene. The puppet show, which combined traditional as well as contemporary ideas, was staged together with folk pantomime dances, such as "Ot oyin" ("The game on wooden horse"), "Sherboz" ("The tamer of tiger"), under accompaniment of music (surnay, karnay and naghora or surnay and doira).
In the ХХ century in Uzbekistan there were more than 40 troupes of traditional puppet theatre. Most of them were engaged in hand puppet theatre ("Chodir jamol"). The marionettes theatre ("Chodir hayol"), on the other hand, it was possible to see only rarely in Tashkent, Bukhara, Kokand, Samarkand and Khiva. Though, after the fifties of the XX century it was almost forgotten. At present this art is being revived again thanks to the activity of craftsmen, who make puppets and actors-puppeteers. One of such masters, who is both a skillful creator of puppets and an actor, is Mansur Kuryazov (leader and actor of the family-based puppet theatre) from the city of Khanka (Khoresm). The puppeteers usually stage traditional comedies called "The adventures of polvon Kachala", "The deed of Yoldosh Yasovul", "Qorabotir and Zukhrakhon", "Oftobkhon and Mokhtobkhon", etc.
Traditional puppet theatre became the basis for the emergence of the contemporary one. At present in Uzbekistan there are more 12 national puppet theatres. Parallel to them there are more than 20 amateur puppet theatres, which bear the name of "People's Collectives" and a great number of amateur talent groups. In addition, leaders as well as actors for professional and amateur collectives are being trained at higher and secondary specialized educational institutions.
From among the bearers of puppetry traditions it is possible to mention the following: Shofayzi Shomukhiddinov, Kenjaboy Tursunboev, Polatjon Doniyorov, Azim Burun (from Tashkent), Mayoqub Voisov, Yusuf Tokhtaev (from Khiva), Doniyor Shokhsuvorov, Kenja Jumaev, Olim Shamsiev (from Bukhara), Sharifjon Mirzarakhimov, Tillakhon Matyaqubova, Mirzakarim Ghofurov (from Kokand), Kuli bobo Novvotov, Karim Majid (from Samarkand), Kholmurod Siddiqov, Narzullo Khamraev (from Gijduvan), Mustafo Berdiev, Tari Ashurov (from Shakhrisabz), Abdusamat Yoldoshev, Joraboy Otaboev (Andijan) and others.